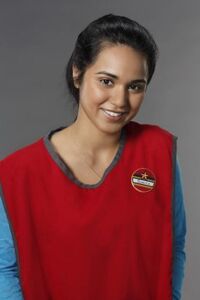 Samira (
Summer Bishil
), a second-generation Pakistani immigrant who dreams of studying music at Julliard. Nicky has a crush on Samira, but her father has other plans for her romantic future.
A young store clerk who emigrated from Pakistan as a child with her family, Samira grew up American but with a foot firmly stuck in traditional values. Her parents have very strong ideas about the life she should be living – including the man she should marry. But Samira is intent on carving her own path, which means pursuing her dream of being a musician - and may include a romance with local bad-boy and co-worker Nicky Korzak. But how can he compare to the "worthier" suitor the Lasharis are urging Samira to marry?
Ad blocker interference detected!
Wikia is a free-to-use site that makes money from advertising. We have a modified experience for viewers using ad blockers

Wikia is not accessible if you've made further modifications. Remove the custom ad blocker rule(s) and the page will load as expected.