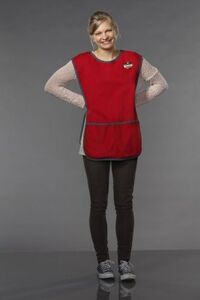 Leanne, (
Anastasia Phillips
) is a young single mom trying to support her child. She seems sweet, but there are hints that she has something to hide. She has a daughter called
Emma
A clever and kind single mom, Leanne works the deli counter. A bit of a mystery, Leanne tends to keep to herself. Although slow to make friends, she considers the Gold Star crew a second family – and is particularly close to Matt, who she might be nursing a crush on. Haunted by a mysterious past, Leanne has worked hard to balance her job with being a good mother to her young daughter, Emma. Despite all her attempts to keep the past in its place, it may just catch up with her.
Ad blocker interference detected!
Wikia is a free-to-use site that makes money from advertising. We have a modified experience for viewers using ad blockers

Wikia is not accessible if you've made further modifications. Remove the custom ad blocker rule(s) and the page will load as expected.