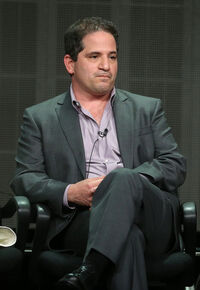 David Zabel is an American television producer and writer. He has worked extensively on ER becoming an executive producer and the series showrunner. He has won an Humanitas Prize for his writing for ER. He is currently the showrunner/executive producer of the ABC cop drama "Detroit 1-8-7." Him and
Jason Richman
created the
ABC
Series,
Lucky 7
Also Executive Producer
Edit
David Zabel wrote for the NBC medical series "ER" for the last eight years of its historic run, which ended in 2009, and served the last five as its showrunner. He wrote over 45 episodes of the program and was a recipient of a 2008 Humanitas Prize for an episode that focused on the tragedy in Darfur. Subsequently he was the showrunner and executive producer of ABC's 2010-11 police series, "Detroit 1-8-7." He has written for such other shows as "Dark Angel," "Star Trek: Voyager" and "JAG," as well as directing episodes of "ER" and "Detroit 1-8-7."
Ad blocker interference detected!
Wikia is a free-to-use site that makes money from advertising. We have a modified experience for viewers using ad blockers

Wikia is not accessible if you've made further modifications. Remove the custom ad blocker rule(s) and the page will load as expected.