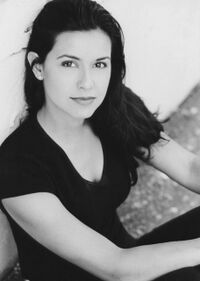 Alexandra Castillo (born 14 June 1971) is an Canadian actress and dancer. She is sometimes credited as Alex Castillo. As of late 1990's, Castillo appeared in several television series and films. She guest-starred in The Dead Zone, This Is Wonderland, Fringe and Warehouse 13. In 2013, Castillo was cast as series regular on
ABC
series
Lucky 7
.
Alex Castillo portrays Bianca Clemente, Antonio's attractive and dynamic wife and the mother of their three children. Even after 15 years of marriage, Bianca still enjoys a passionate and loving relationship with her husband. In real life, Castillo is a highly-acclaimed Chilean-Canadian actress from Toronto. She attended graduate school in Vancouver, where she pursued a Master of Arts in Latin American Studies.
Since leaving the academic world, Castillo has appeared in numerous Canadian and American films and TV shows. Her television credits include "The Firm," "Against the Wall," "Warehouse 13," "Fringe," "The Listener" and "Traitor."
Castillo resides in Toronto.
PERSONAL INFORMATION HOMETOWN Toronto, Ontario, Canada BIRTHDATE June 14
Ad blocker interference detected!
Wikia is a free-to-use site that makes money from advertising. We have a modified experience for viewers using ad blockers

Wikia is not accessible if you've made further modifications. Remove the custom ad blocker rule(s) and the page will load as expected.